The colors of Kerosene oil are different in different countries like United States, India, Australia, etc. In India, the Kerosene oil is blue, in United States, it is red and in other countries, the kerosene has different colors. Now, the question is "What is the color of Kerosene oil? Is it blue or red or anything else?". If it is not blue or red, then what makes the color of kerosene blue or red? In this article, we are exactly going to discuss this fact.
Actual Color of Kerosene oil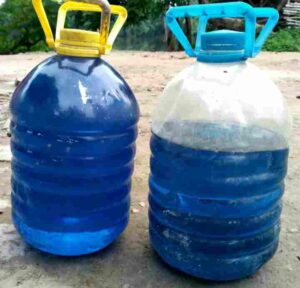 Though we can see the Kerosene oil in blue and red color, but these are not its natural color. In fact, Kerosene oil does not have any color. Yes, kerosene is colorless. Government mixes blue dye with kerosene to make it colorful. There are some reasons behind this.
Why is the color of Kerosene blue or red?
People can easily buy kerosene oil from relevant stores and markets. But, the Government of many countries supplies kerosene to the people for a price different from its market prices. Now, the government makes the color of the kerosene oil blue by adding blue dye to it. Similarly, to get the red kerosene, a red dye can be mixed with kerosene oil. The causes are as below –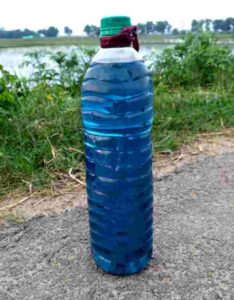 The kerosene oil supplied by the Government can be easily identified by seeing its color. Government supplies blue kerosene at a lower price whereas other stores will have white or colorless kerosene. This restricts the sale of the Government's kerosene in black markets.
Many countries use to color kerosene and other oils for safety purposes. Water and kerosene have the same color (colorless or white) and both are available in bottles. Therefore, there is a possibility of drinking kerosene instead of water by mistake.
The Government has chosen blue color because some of the drinks are available in brown, red, yellow, green, etc. colors, but blue drinks are not available.
How to change the color of kerosene oil?
The color of kerosene oil is made red or blue by adding dye to it. So, its color can be changed by adding dyes of different colors available in the market. But, the color of kerosene should not be the same as the color of other drinks. The cause is mentioned in the above paragraph.
Summary
Kerosene is white or colorless. Government makes it blue or of any other colors by adding colorful dye to identify the government's kerosene. Kerosene oil may have different colors in different countries. Some countries have colored kerosene for the safety of the people. The color of kerosene can be changed at any time by mixing the dye of different colors into the kerosene oil.
People also ask:
What does kerosene look like?
Is kerosene blue?
What is the colour of kerosene?
What is Kerosene oil?
This is all from this article. Hope you understand the actual color of Kerosene oil and why the Government makes it colorful. If you have any questions on this topic you can ask me in the comment section. You also can ask such interesting questions related to science. Again, you can get Physics homework help from experts if you want someone to do your Physics assignments.
Thank you!
Related posts:
Visit Homepage